2017 Incidents
Jan
83
Feb
68
Mar
126
Apr
51
May
0
Jun
0
Jul
0
Aug
0
Sep
0
Oct
0
Nov
0
Dec
0
Total
328
2017 Jobs
Fires
6
Extrications
5
Past Incidents
2016
931
2015
884
2014
797
2013
830
2012
862
2011
874
2010
843
2009
773
2008
754
2007
848
Web Counters
Website Visitors
Since
March 15, 2004

Visitors Today
Apr 30, 2017

Copyright © 2017 Mechanicsville Volunteer Fire Department, Inc.


Duplication of text, photos, or any other content on this website is prohibited without permission of MVFD. If you have questions, please contact us at info@mvfd.com
Welcome to the Official Website for the Mechanicsville
Volunteer Fire Department, INC.
PROUDLY SERVING WITH PRIDE, DEDICATION, AND COMMITMENT SINCE 1934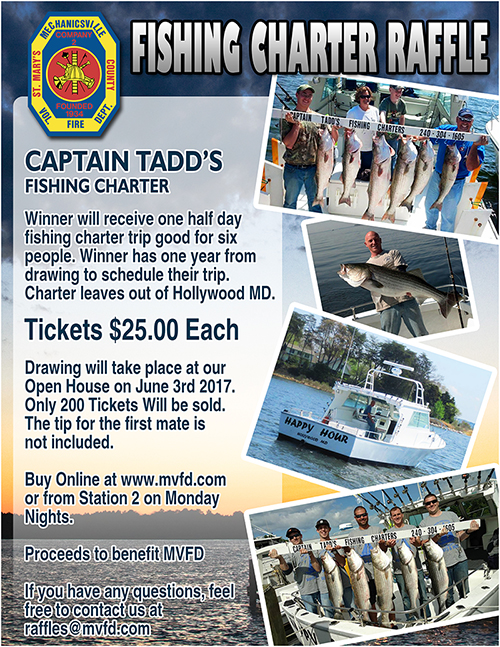 Buy your Chance / Entry Ticket Below!

Volunteers Handle A Late Evening Accident

Volunteers Handle A Late Evening Accident

Mechanicsville Volunteers , April 24

Shortly before 2100 hours on Monday, The Mechanicsville Volunteers, along with surrounding companies were alerted to the area of 28967 Three Notch Road, for the Motor Vehicle Collision, reported head-on and serious.

Chief 2 (Trowbridge), Rescue Squad 2 (Capt. Barnes), and Engine 21 (FF Busl), made the response shortly after dispatch with a total of 11 men.

Chief 2 arrived on scene first to find ... (Full Story & Photos)


For Sale: VULCAN Gas Ranges with Flat Griddle & Oven - Price: Best Offer

Mechanicsville Volunteers, March 17

Mechanicsville Volunteer Fire Department is selling our old VULCAN Gas Ranges with Flat Griddle & Ovens.

Brand: Vulcan
Model: VG60F-56 Six Burner Gas Range with 24' Flat Griddle & two Standard Ovens

- 6 Gas Range With 24" Flat Griddle & 2 Standard Ovens
- Stainless steel front, sides, back riser.
- 26,000 BTU/hr. cast top burners.
- 35,000 BTU/hr. standard ovens measure 26 1/4" wide x 22" deep x ... (Full Story & Photos)



VULCAN Gas Ranges with Flat Griddle & Ovens For Sale



Keith Turner and Billy Coberly

Ladies Auxiliary Welcomes First Male Members

Assistant Secretary/Treasurer Karen Montgomery, February 28

The Ladies Auxiliary are happy to announce their first male members, Keith Turner and Billy Coberly. Both Keith and Billy were voted in at the Ladies Auxiliary business meeting held on Tuesday, February 28, 2017. Congratulations and we look forward to working with you.

A member of the Ladies Auxiliary supports the department by assisting with event hosting and fund raising activities for the department. ... (Full Story & Photos)


Company Handles 3 Midday Runs

Mechanicsville Volunteers, February 27

On Monday, just after 1330 hours, Squad 2, Squad 1, and various EMS resources were alerted to Point Lookout Road in the area of Earnshaw Way for the Motor Vehicle Accident, reported serious with Entrapment.

Squad 2 and Engine 23 made the response with 7. Units arrived to find no Entrapment but had a trauma patient requiring a helo to transport to an area trauma center.

Units established a landing ... (Full Story & Photos)



Units operated at this single vehicle accident on Monday afternoon.



MVFD President John Montgomery, MSFA President Mike Davis, and MVFD's Past-President Bill Smith.

Loan Information Carried to Executive Committee Meeting

Firefighter/EMR John Montgomery, February 25

President John Montgomery and Past-President Bill Smith attended the State Executive Committee meeting held at the Junior Fire Company in Frederick, MD on Saturday, February 25, 2017. President Montgomery & Past President Smith presented the committee with a book containing information on the progress of the new station. This presentation was a vital step in securing the loan from the State. Pictured ... (Full Story & Photos)


Company Responds to Entrapment in Charlotte Hall

Mechanicsville Volunteers, February 18

Shortly before 2300 hours on Saturday, Company 2, Squad 1002, EMS Companies 29, 1002, and SMALS were alerted to 39381 Mount Wolf Road for the MVA, reported one vehicle overturned with entrapment.

Rescue 2(Chief 2A), Engine 23, Rescue Engine 22, and Squad 1002 all went enroute. The Rescues arrived to find a vehicle down a dirt driveway, on its roof, with the driver trapped. Both squads went to work ... (Full Story & Photos)



Crews responded to this MVA with Entrapment on the dirt portion of Mount Wolf Road.



Engine 23 and Tanker 2 operate on a house fire off of North Sandgates Road

Engine and Tanker Run House Fire

Mechanicsville Volunteers, January 27

Engine 23 and Tanker 2 responded to 26600 North Sandgates Road for the house fire. Engine 23 responded after clearing an automatic alarm.

Chief 7A and Engine 72 arrived to find fire showing from sides "Alpha" and "Charlie". Engine 23 arrived and picked up Engine 72's supply line and established water supply. The crew assisted with fire attack.

Units remained on the scene for an extended period ... (Full Story & Photos)

Feel free to look around and leave comments in our guestbook.